Fact not Conspiracy Theory
Unfortunately, the US healthcare industry is run by a Medical Cartel encompassing Federal regulators and giant Pharmaceutical companies. Money and power are strong influencers on decisions and, posting sales in excess of half a trillion dollars, the big drug companies have deep pockets to propagate lies and buy Senators. Vaccines comprise a major portion of this cash flow as does Cancer Therapy. Both are vital to the gross profitability and expansion of the Cartel regardless of how many people are actually cured.
"I have no hesitation in stating that in my judgment the most frequent disposing condition for cancerous development is infused into the blood by vaccination and re-vaccination."
-Dennis Turnbull, MD, cancer researcher.
"Vaccines have to be considered the bargain basement technology for the 20th Century."
-Dr. Maurice Hilleman, Leading Vaccine Developer
"The only safe vaccine is a vaccine that is never used."
-James R. Shannon of the National Institutes of Health

Polio Virus
For example, the Polio Virus has been around for centuries. Yet the virus seldom caused paralysis until the late 1800's. In fact, 95 percent of polio cases occur without symptoms, just a mild fever. But in less than one percent of the victims, the virus penetrates the blood-brain barrier to cause paralysis and death. As the fear of a polio epidemic in the US spread in the 1950's, polio vaccines were rushed to market and vaccination became compulsory.
Dr Maurice Hilleman, one of the most renowned vaccine developers in the world with over three dozen vaccines to his credit headed Merck's vaccine program. On examining the injectable Salk polio vaccine and the oral Sabine vaccine, he isolated the SV40 Simian Live Virus from both and discovered that most polio vaccines given to the public were contaminated with cancer causing viruses.
As expected, the government kept these revelations secret, warning neither doctors nor the public while the vaccines continued to be administered for decades. SV40 was so virulent that it became a popular tool for cancer researchers to rapidly transform healthy animal cells into tumor cells. In fact, from 1955 to 1963 up to 98 million children and adults in the United States were exposed to SV40 Simian Live virus, a known carcinogen, due to contaminated polio vaccines.
In the March 1977 issue of Science, Jonas and Darrell Salk made the startling revelation that, "Live virus vaccines against influenza or poliomyelitis may in each instance produce the disease it is intended to prevent…." This should make every thinking person pause and consider whether vaccines do more harm than good.
On January 26, 1988, the Washington Post featured a story about polio from a national conference that concluded that all new cases of polio have come from the vaccine itself. None of the original 'wild type' polio virus has caused a single case of polio in the United States since 1979.  The program should have been discontinued long before but it wasn't, due to collusion between Big Pharma and government regulators, known as the Medical Cartel, exposed  in the book 'Cancer Vortex'.
Dr. Suzanne Humphries Lecture on vaccines and health FULL PART ONE
The CDC posted on its own website (which was taken down shortly after this post went viral. Click here for an internet archived copy) that as many as 30 million Americans could be at risk for developing cancer due to polio vaccine tainted with Simian Virus 40 (SV40) found in some species of monkey.
This story is not new – many of of us who thoroughly researched the vaccination issue before choosing whether or not to immunize were already aware of this fact years ago.
I became aware of the tainted polio vaccines from 1955-1963 in the late 1990's and it was one of the primary motivators for me to choose a "no shots, no way" approach for my children.
What is new is that the CDC is finally admitting it.
What took you so long CDC? Many of the folks vaccinated with the tainted polio stock are already dead from cancer with many more getting diagnosed each and every day!
Here's the exact language from the CDC Fact Sheet.  I am reprinting it here in it's entirety in case the CDC decides to take it down. UPDATE: The CDC did in fact take down the page on SV40 shortly after this post went viral, so the link now goes to an archived copy.
SV40 is a virus found in some species of monkey.
SV40 was discovered in 1960. Soon afterward, the virus was found in polio vaccine.
More than 98 million Americans received one or more doses of polio vaccine from 1955 to 1963 when a proportion of vaccine was contaminated with SV40; it has been estimated that 10—30 million Americans could have received an SV40 contaminated dose of vaccine.
SV40 virus has been found in certain types of cancer in humans, but it has not been determined that SV40 causes these cancers.
The majority of scientific evidence suggests that SV40-contaminated vaccine did not cause cancer; however, some research results are conflicting and more studies are needed.
Polio vaccines being used today do not contain SV40. All of the current evidence indicates that polio vaccines have been free of SV40 since 1963. NOTE: This claim by the CDC is false.  SV40-contaminated oral polio vaccines were produced from early 1960s to about 1978 and were used throughout the world.
In the 1950s, rhesus monkey kidney cells, which contain SV40 if the animal is infected, were used in preparing polio vaccines. Because SV40 was not discovered until 1960, no one was aware in the 1950s that polio vaccine could be contaminated.
SV40 was found in the injected form of the polio vaccine (IPV), not the kind given by mouth (OPV).  (Editor's note: this claim by the CDC is patently false. SV40 was found in oral polio vaccines after 1961. A study determined that the procedure used by the manufacturer to inactivate SV40 in oral poliovirus vaccine seed stocks based on heat inactivation in the presence of MgCl2 did not completely inactivate SV40.).
Not all doses of IPV were contaminated. It has been estimated that 10—30 million people actually received a vaccine that contained SV40.
Some evidence suggests that receipt of SV40-contaminated polio vaccine may increase risk of cancer. However, the majority of studies done in the U.S. and Europe which compare persons who received SV40-contaminated polio vaccine with those who did not have shown no causal relationship between receipt of SV40-contaminated polio vaccine and cancer. (Editor's note: Oh really? SV40 has already been detected in some human tumors. That is far and beyond "some evidence".)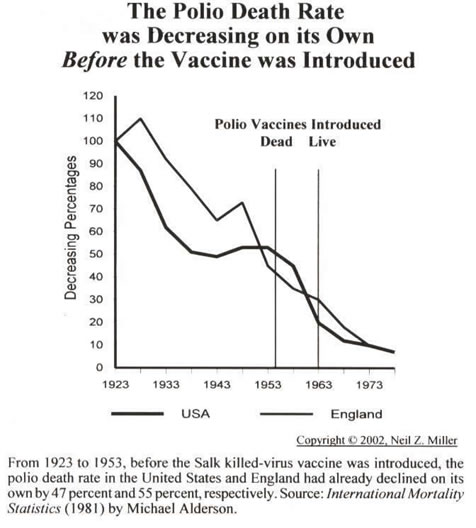 Possibly more shocking than the fact that it took 50 years for the CDC to admit to this is that it took 3 years once SV40 was discovered in 1960 to finally recall the tainted stock and reformulate the vaccine. Over 100 million Americans were vaccinated with the contaminated polio vaccine before action was taken.
30 million seems like a very lowball number of the true extent of the problem!
With baby boomers suffering from cancer, by some estimates, at the mind boggling rate of 1 in every 3 individuals (up from 1 in 8,000 only a few decades prior and the highest rate of any age group), it would seem that something is terribly amiss, don't you think?
The government has a penchant for doling out bad news a little at a time to minimize public outrage. Even if the CDC does finally admit that SV40 is a cause for this enormous explosion in cancer of boomers in their late 40's, 50's and 60's, can these folks or their grieving families do anything about it?